Installing Extensions
You can add many more actions to PopClip using extensions. For example:
Paste and Match Style
Send to Evernote
Google Translate
Capitalize
Word Count
...and many more
See the
PopClip Extensions
page for all the details.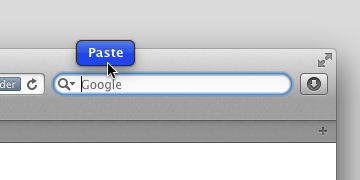 When does Paste appear?
Paste appears when you click editable text immediately after pressing Copy or Cut. To make Paste appear at other times (without selecting text), either hold down the mouse button for about half a second, or click twice in the same place.
Paste and Match Style / Paste Without Formatting
Hold down the shift (⇧) key when you click Paste, to paste without formatting. You can also hold shift when you click Copy (and Cut), to copy without formatting.
Extra tip: You can also add a dedicated Paste and Match Style button using an extension.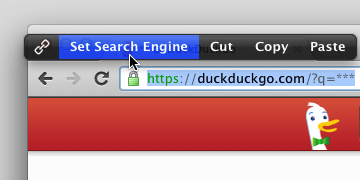 Change the Search Engine
You can change the search engine to anything you like. Here's how:
Search for *** in your chosen search engine.
Select the URL of the results page.
Click the Set Search Engine option which appears in PopClip.
Here are some suggestions:
http://www.google.com/search?q=*** (default)
http://www.google.com/search?hl=en&tbm=isch&q=*** (image search)
http://duckduckgo.com/?q=***
http://www.bing.com/search?q=***
http://search.yahoo.com/search?p=***
http://www.baidu.com/s?wd=***
http://yandex.ru/yandsearch?text=***
http://www.wolframalpha.com/input/?i=***
http://www.youtube.com/results?search_query=***

Extra tip: You can set a second search engine by holding shift (⇧) when you click Set Search Engine. Then hold shift when you click the Search button in PopClip to activate the alternate search.
Set the Spelling Language / Turn Off Spelling
You can choose the spelling language in PopClip's settings. To turn off spelling suggestions completely, set the language to "None".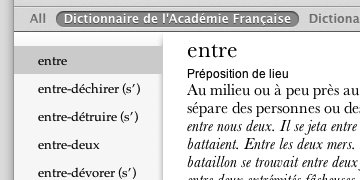 Adding Dictionaries
PopClip uses the built-in Dictionary app to look up words, and OS X supports only English and Japanese. However, some third party dictionaries are available:
Opening URLs and Email Addresses
If you select text containing a web link or email address (such as http://pilotmoon.com or apple.fr/mac), you can click the Open Link button in PopClip to open the link in a new browser tab. It is not necessary to select the link exactly, and if you select several links, PopClip will open all of them.
If you hold shift when you click Open Link, PopClip will copy the links to the clipboard as a list.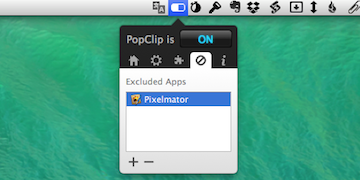 Prevent PopClip from appearing
If you hold down the ⌘ (command) or Fn key while selecting text, PopClip will not appear.
If you always want PopClip to stay out of the way when using s particular application, add them to the Excluded Apps list in PopClip preferences. Click the '+' button to add a new application to the list.
You can turn off PopClip completely by turning it off in preferences window.
You can still trigger PopClip with AppleScript while PopClip is off.
Controlling PopClip using AppleScript
PopClip supports some AppleScript commands.
To turn PopClip on or off, use the "enabled" property. For example:
tell application "PopClip" to set enabled to true
To make PopClip appear for the currently selected text, use the "appear" command:
tell application "PopClip" to appear
Once activated from the AppleScript, you can select PopClip actions using the ←, → and space keys.
Activating PopClip from the Keyboard
If you want to trigger PopClip from the keyboard, you can bind the "appear" AppleScript above to a hotkey using your favorite launcher app (for example FastScripts, Alfred, LaunchBar or Quicksilver), or an Automator service (see this guide by George Coghill).