RapidClick — The super-simple auto clicker. How to use:
Set how fast you want to click with Plus and Minus

.
To start clicking press Start

. When you're done, press Stop

. Simple as that! RapidClick is available on the Mac App Store.
Buy Now $2.99 →
Screen Shots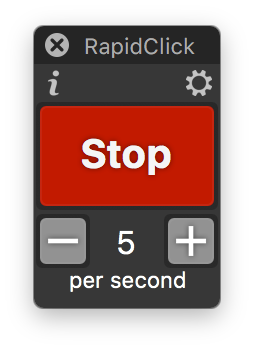 Main Control Panel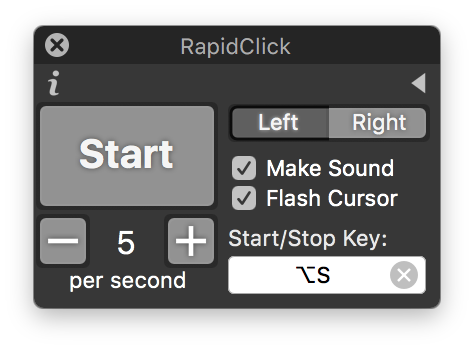 Preferences
Demo Video
Watch the demo video showing RapidClick in action.
Features
Rate can be set between 1 click per hour and 20 clicks per second
Left click and right click
Assign a hotkey to start and stop clicking
The start/stop button floats above all apps, even full screen games.
Audio and visual feedback shows you the clicks happening
Download
Latest version: RapidClick v1.4 (opens in Mac App Store). Requires macOS 10.9, 10.10, 10.11, 10.12 or 10.13.
For older versions of macOS: RapidClick v1.3.4 (zip file, 0.4Mb). This version works with OS X OS 10.6, 10.7 or 10.8 only.
Support
If you have any questions, feedback and suggestions about RapidClick, email Nick Moore at support@pilotmoon.com.