RapidClick — The super-simple auto clicker. How to use:
Set how fast you want to click with Plus and Minus

.
To start clicking press Start

. When you're done, press Stop

. Simple as that! RapidClick is available on the Mac App Store.
Buy Now $2.99 →
Troubleshooting: If RapidClick is not starting up, please do the following:
1) Go to System preferences → Security & Privacy → Privacy → Accessibility.
2) Click the Lock icon and enter your password.
3) Click the "–" button to remove RapidClick from the list. Then click the "+"" to add it again.
4) Enable RapidClick in the list.

Screen Shots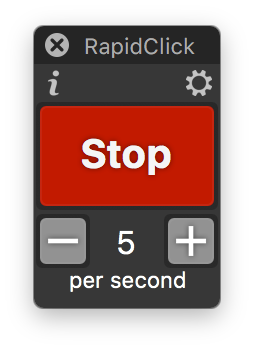 Main Control Panel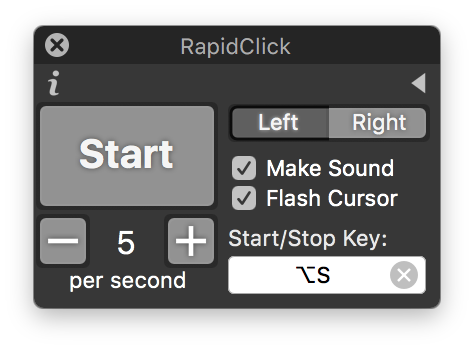 Preferences
Demo Video
Watch the demo video showing RapidClick in action.
Features
Rate can be set between 1 click per hour and 20 clicks per second
Left click and right click
Assign a hotkey to start and stop clicking
The start/stop button floats above all apps, even full screen games.
Audio and visual feedback shows you the clicks happening
Download
Latest version: RapidClick v1.4 (opens in Mac App Store). Requires macOS 10.9 or above. Works with macOS 11.0 Big Sur.
For older versions of macOS: RapidClick v1.3.4 (zip file, 0.4Mb). This version works with OS X OS 10.6, 10.7 or 10.8 only.
Support
If you have any questions, feedback and suggestions about RapidClick, email Nick Moore at support@pilotmoon.com.