I released a PopClip update today, both to the Mac App Store and to the website.
The update contains many improvements and fixes, and makes PopClip ready for macOS 10.15 Catalina.
As part of this update, PopClip has had a significant overhaul of its internal workings and there might be new issues that I did not pick up in testing, especially regarding compatibility with various apps. Please report any bugs or app compatibility issues.
A note on the version number
PopClip now has a calendar-based version number. This update, being released in September 2019, is version 2019.9.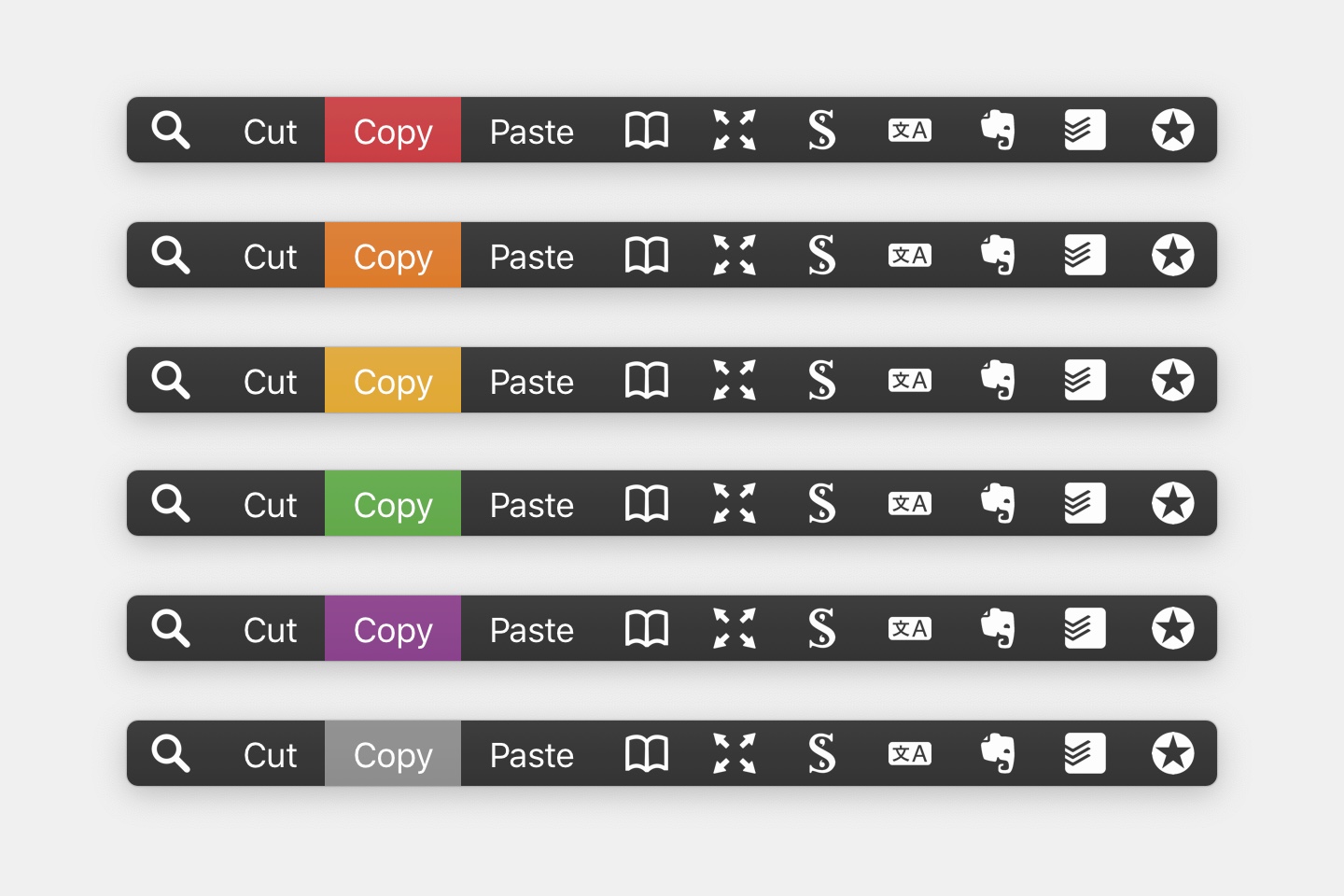 Improvements and fixes
PopClip now follows the system accent colour for its button highlight (which you can set in System Preferences → General).
Faster application start-up and generally faster operation.
Safari:

"Double click and drag" method of text selection in Safari now works.
Should not cause Safari make the annoying "boop" sound nearly as much.

Firefox:

The problem where PopClip would interfere with drop-down menu selection in Firefox has been eliminated.

Brave:

Search and Open Link now work within Brave browser.

Search action now also puts the selection on the clipboard.
PopClip pops up when clicking the auto-selecting address bar in Firefox, Opera, and Brave (as it already did with Safari and Chrome).
Improved 3rd party app compatibility. In particular:

Works with JetBrains apps (such as PHPStorm, AppCode etc).
Works in Microsoft PowerPoint 2016.
Works in Help Viewer windows.
Works in Spotlight results window.
Works in 1Password.

Fixed missing title text in the extension options window.
Recognises "hook:" app URL scheme when detecting links.
A change to "Paste" activation
PopClip no longer shows the "Paste" option when double-clicking in an empty text field, or when single clicking on text immediately after copying. To show the Paste option for an empty selection, you must now long press the mouse button.
Preview PDF compatibility
PopClip still does not work properly with PDF files in the Preview app in macOS 10.13 and 10.14. Please note this is due to a bug in Preview affecting those versions of macOS. The good news, however, is that it appears to be fixed in the 10.15 betas.
Goodbye Mavericks, Yosemite and El Cap
The minimum system version is now macOS 10.12.6 Sierra. Support is therefore being dropped for macOS 10.9, 10.10 and 10.11. PopClip 1.5.8 is still available to download for those systems.
The update is rolling out as a phased release over the next 7 days to all Mac App Store customers with automatic updates turned on. To get it right away, head to the Mac App Store where you will find PopClip in the Updates tab.
Enjoy PopClip.